Submitted by
Tereza_Svobodova
on 23/04/2019 - 00:14.
Enjoy your Erasmus in Prague to the fullest
The best part about being an Erasmus student is that you can enjoy the city in the time of the day when most of the people are in the office. Take an advantage of the empty morning streets and go out for a proper breakfast. No matter you are a morning person or not, breakfast is always a good idea of what to do.
In this article we will show you four places worth a visit. Get ready to have a breakfast in Prague!
1. Café Jen – Batch Brew for the Early Birds
A lovely café that makes it worth to take a little trip to Vršovice. Café Jen offers great specialty coffee, local eggs, sausages, amazing porridge, or homemade cakes. During the working days they open at 7.30 am, so even if you have some errands, this is the place to go!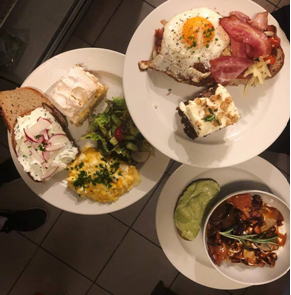 (copyright: Instagram café_jen)
2. Bistro 8 – Mouth-Watering Dishes from Local Ingredients
Bistro 8 successfully started in Letná and recently expanded into Vinohrady area as well. You will love the breakfast no matter the location. All of the ingredients used are local and the meals are homemade. You can enjoy the breakfast in Bistro 8 with the bottomless coffee.
​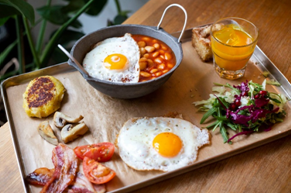 (copyright: Instagram bistro_8_vinohrady)
3. Myšák – Sweet Treats for your Sweet Tooth
If you have a sweet tooth, go for Myšák! Cakes, ice cream, or buns with vanilla sauce. The last named is something you shouldn't miss at Myšák. It's just amazing. Tastes like heaven. By the way, did you know that Czech people eat sweet buns ("buchtičky") with vanilla sauce for lunch? What a habit, right! But trust us, it really worth a try.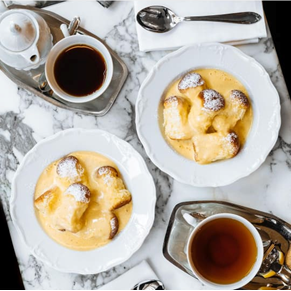 (copyright: Instagram cukrarna.mysak)
4. Café Louvre – Stunning Atmosphere for Affordable Price
The Café Louvre opened in 1902, and you can feel the historic atmosphere here. We love the architecture and also the service. You will feel super special at Louvre. We love their breakfasts and we believe they serve the best scrambled eggs in Prague. This place looks so fancy, but don't worry. It is all affordable. Actually it is the cheapest place of all cafés mentioned. And on the top of that, Albert Einstein and Franz Kafka used to come here as well! J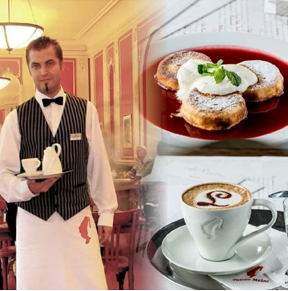 (copyright Instagram cafelouver)
We believe you will enjoy these places. Let us know if you have some recommendations for other Erasmus students #SharingIsCaring.