Your arrival is getting closer and we can't wait to #CUinPrague! 

After your arrival, you need to register at your faculty in order to attend Charles University. These registrations are obligatory. Each faculty has its own registration day and time so pay attention to the emails sent to you by the coordinators of your faculties and always make sure to double-check your own faculty's schedule. The registrations are organized by the university workers (faculty coordinators) from the international offices of individual faculties. 
The faculties mentioned above are faculties that colaborate closely with ESN CU Prague. If you are from a different faculty and do not know when your registration day is, please check with your faculty coordinator.
 Program for the Welcome Week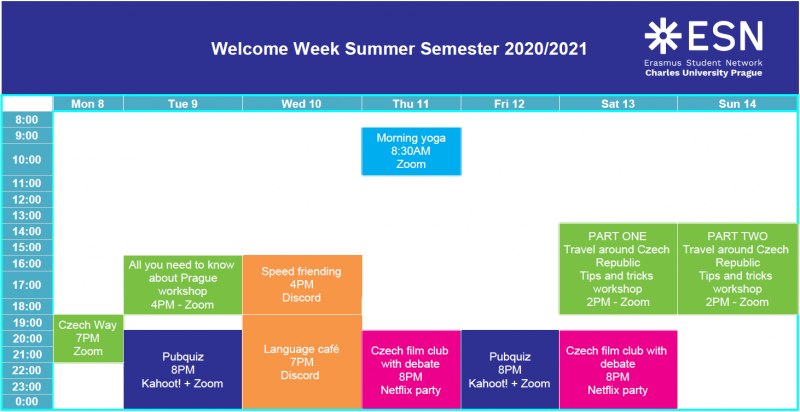 > The registration for Welcome Week Office Hours <
More info about the registration HERE. 
Czech Way
Do you wanna know more about Czech culture, traditions, cuisine and famous beer? Learn some Czech words? This event is a perfect introduction to your Erasmus in Prague!
All you need to know about Prague workshop
Even though we cannot physically take you around Prague, we still crave to show you our beautiful city and give you some student friendly tips and tricks. We are looking forward to seeing you!
Pub Quiz
Compete with your new friends in the popular Pub Quiz! You can show them how clever you are and you will also learn many new things about the place where you stay - Prague, Charles University and the Czech Republic in general! Sounds like fun, doesn't it? All you need to do is install Kahoot! to your phone (or just open it on their website) and join us on a Zoom meeting. We will show you the questions and you will answer in the app (or website). How cool is that? And what more... the three best players will win some cool prizes!
Speed Friending
Have you heard of Discord? Did you know that you can meet many friends there, play games, chat, send voice messages and many more? This event will introduce you to this platform and show you all the different ways to find friends there and have fun!
Language Café
We already gave you many reasons to join our Discord, yet here is one more! We will be organizing language cafés on a regular basis. There are channels for different languages and we will discuss different topics in each. So it doesn't matter if you are a beginner or a pro, if you want to practise languages you learn or show your language to people who are trying to learn it, this event is just for every language lover out there!
Morning yoga
There is no better way to start your morning than with a good stretch. Join our yoga class with a certified yoga instructor and start your morning right. 
Czech film club with debate
Have you ever seen a Czech movie? There are many good ones and we can't wait to show it to you! After watching the movie, we will hold a Q&A session and a discussion about it, so prepare your questions :) 
Travel around Czech Republic - Tips and tricks workshop
Unfortunately, there will be no trips due to covid restrictions, BUT! We are creating an online workshop via Zoom on Saturday 13th and Sunday 14th, where our members will present you different cities around the Czech Republic, give you tips on how to get there and what to do there. Basically, since we cannot physically take you there, at least we can prepare you for going there on your own or with your friends! The exact schedule of the workshop will be updated soon, so stay tuned!