Submitted by
michaelka
on 11/10/2020 - 22:11.
Although you may be thinking that your choice to go for Erasmus to Prague this semester was not entirely smart idea, don't let yourself get into depression and try to gain from this difficult situation the maximum of experiences, knowledge and new friends as it is possible. We are fully aware how difficult is this situation for all of you, especially when you don't know a lot of people here and Prague is completely new city for you. At ESN CU Prague we are doing our best to mitigate the impact of governmental restrictions on your student's life here, to help you stay safe and at the same time let you enjoy as much fun as possible. There will be some online events for you and we hope they will as interesting as the offline ones!
Life has changed for all of us and everyone hopes that this time will pass quickly, and we will come out from this situation stronger. Not only because of that, we need to comply with the regulations that the government gives us, albeit they can be sometimes confusing. That's why we prepared this post for you where we will try to sum up all the restrictions effective from today (12 October 2020) even though we are aware that they can be totally different in the upcoming days. On Wednesday (14th of October) there should be new ones so check the mentioned below links to stay informed.
From 5 October 2020, a state of emergency has been announced for 30 days, but its duration may be extended. The state of emergency allows the government to adopt nationwide restrictions and pass laws in an accelerated process. 
New restrictions are following (they should be effective only for 14 days but probably will be prolonged):
• all cultural events are canceled – cinemas, theatres, zoos, etc. are closed;
• gyms, swimming pools, saunas and other indoor sport places are closed, outside sport places are limited to 20 people;
• all sport matches are canceled (doesn't matter if professional or not);
• restaurants and bars have to close at 8 pm and there can be only 4 people at one table;
• offices will be open just 2 days a week for max. 5 hours (please, if you need to deal with some documents, check the opening hours at their websites or simply call there);
• shopping centers remain open – the only restrictions are at the food courts where only 2 people can sit at one table;
• distance classes at all universities (except for some practical classes in medical studies).
Also, I would like to kindly remind you that it is obligatory to wear masks in public transport and all inside areas. Please, follow this important rule. Remember about the spring initiative "I protect you, you protect me". I think we all already know how to wear them in proper manner (don't forget to put them also on your nose). If we all do that, maybe we can avoid impending lockdown and in the following weeks we can see each other again in the offline world like COVID 19 has never existed. If you still don't have your multiple-use mask, come to our offices and get one with ESN CU Prague brand. We made our own face masks to make more easy for you with recognizing others erasmus people and also keep you in safe. ESN CU Prague face masks costs just 60 CZK and it's washable and you can use it again and again!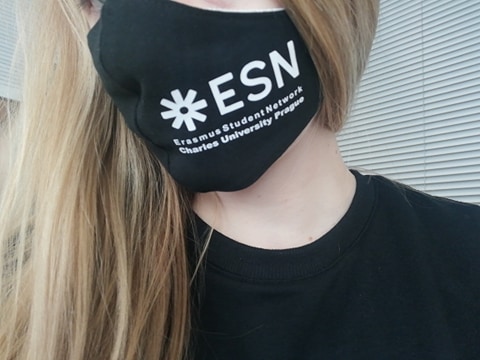 I know this situation can be overwhelming and the restrictions are changing from day to day. That's why we provide you with the following links, where you can easily find which restrictions are effective these days:
Or you can check our instagram account:  https://www.instagram.com/esncuprague/
On behalf of ESN CU Prague
Aneta Krátká
1 October 2020